Through the end of February, the FAFSA cycle for the high school class of 2022 is showing encouraging signs.
Driven by a recent surge in California completions and large gains from Texas, probably as a result of the state's newly-implemented universal FAFSA policy, the class of 2022 has 2.5% more FAFSAs completed this year than at this point last year.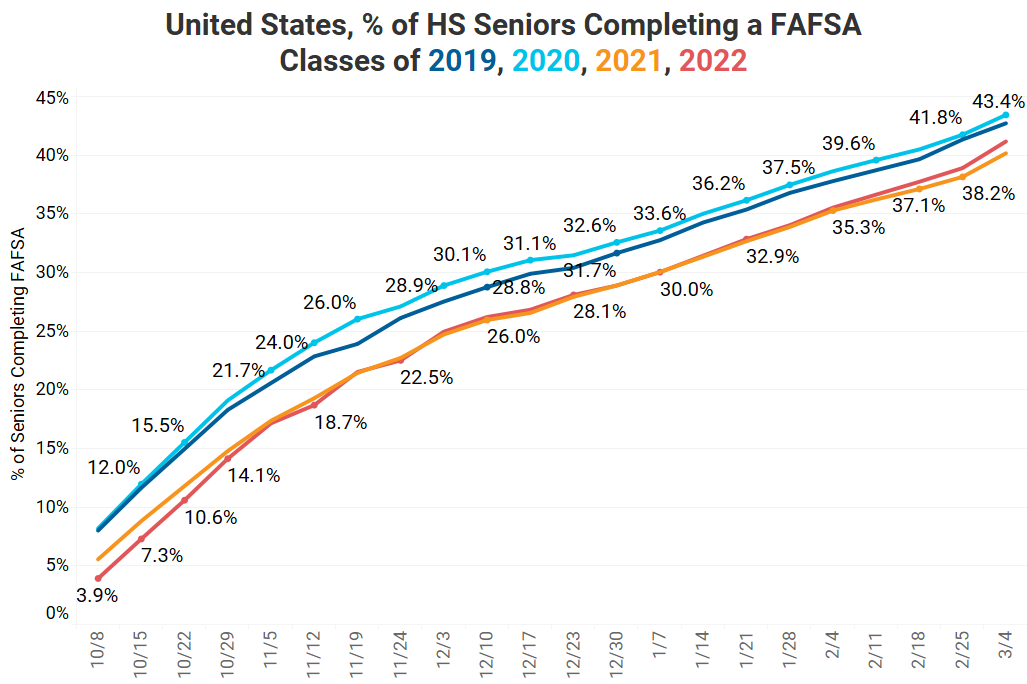 Despite these gains, the class of 2022 has nearly 3 percentage points fewer seniors completing nationally than the class of 2020 did at the same point.
High schools serving large percentages of students from low-income backgrounds, Black, and Hispanic students are on the rebound, with their year-over-year completions gaining ground at nearly three times the national rate.
While there's still considerable work to do to get back to a pre-pandemic FAFSA completion baseline, the class of 2022 is outpacing the class of 2021, which hopefully bodes well for postsecondary enrollments this fall.
NCAN Report: $3.75 Billion in Pell Grants Goes Unclaimed for High School Class of 2021
Financial aid makes education after high school more affordable – but first, students have to apply for it. And for a variety of reasons, that doesn't always happen.
In addition to looking at how many Pell dollars students missed out on by not completing the FAFSA, this report outlines steps states can take to raise their FAFSA completion rates.
How Many Pell Grant Dollars Went Unclaimed in Your State?
Use our interactive dashboard to explore how much federal need-based aid students from your state left on the table by not completing the FAFSA.
States with the largest sums of unclaimed Pell dollars were, unsurprisingly, states with large populations. They include California ($561 million), Texas ($496 million), and Florida ($304 million).
2087744