As a first-generation college student graduate from a low-income, minority background, I didn't have examples of how someone like me could become a college graduate.
The extent of my parents' education included a General Education Diploma (GED) while in jail and a night school diploma as a teen parent. I share these pieces of where I come from because although I've earned college degrees, my family was not equipped to help me navigate el Camino (the path) to college.
Because I was the first in my family to pursue college, I didn't have financial literacy about affording college nor did I have any sense of how to understand college affordability. Much of what I know now, I learned on my own and I'm happy to share these reflections and lessons with you and your family.
Advocates. An organization that you should know about is the Hispanic Association of Colleges and Universities (HACU) which is an organization established in 1986 its purpose is to serve thousands of young Hispanics through internships, scholarships, and college support programs. Their programs are focused on college preparation and long-term career development as well. Learn more about this organization and begin to understand the ways in which HACU can be a champion for you and your family along the college pathway. Here is a link to the HACU Scholarship Program. Scholarships like this and more are often available on a rolling basis. Be sure to do your research and apply!
Colleges for you. Hispanic Serving Institutions (HSIs) are colleges that you research since they have more money to support Hispanic/Latinx students. These colleges can be found across the entire United States of America with a strong representation in California. These colleges are defined in the Title V of the Higher Education Act as non-profit institutions of higher learning with a full-time equivalent undergraduate student enrollment that is at least 25 percent Hispanic. This means that HSIs are eligible for additional federal funding to serve the needs of Hispanic students. As you and your family explore college options, it's important to identify colleges that will offer everything you are looking for, especially financial support. Do not be ashamed, guilty, embarrassed, or shy to ask questions and ask for financial terminology to be explained.
Affordability. Making the decision to matriculate (enroll/attend) college is a huge decision and a long-term commitment. In terms of affordability, there are several things to consider including initial costs and long-term payoffs. When choosing a college that is affordable, consider net cost, graduation rate, and potential earnings. You will want to consider attending those colleges that have the highest graduation rates, the lowest net cost, and the highest potential earnings. Then, of these colleges, which are most committed to adequately serving students' needs. The below images include data for Hispanic Serving Institutions across the state of California. This information will help you to see which colleges are most affordable in terms of their cost now and potential long-term benefits. This data is meant to serve as some examples for you to consider what affordable colleges may be within your reach as a starting point. You can reference this information at degreechoices.com (team of education researchers) which shows the difference between each college.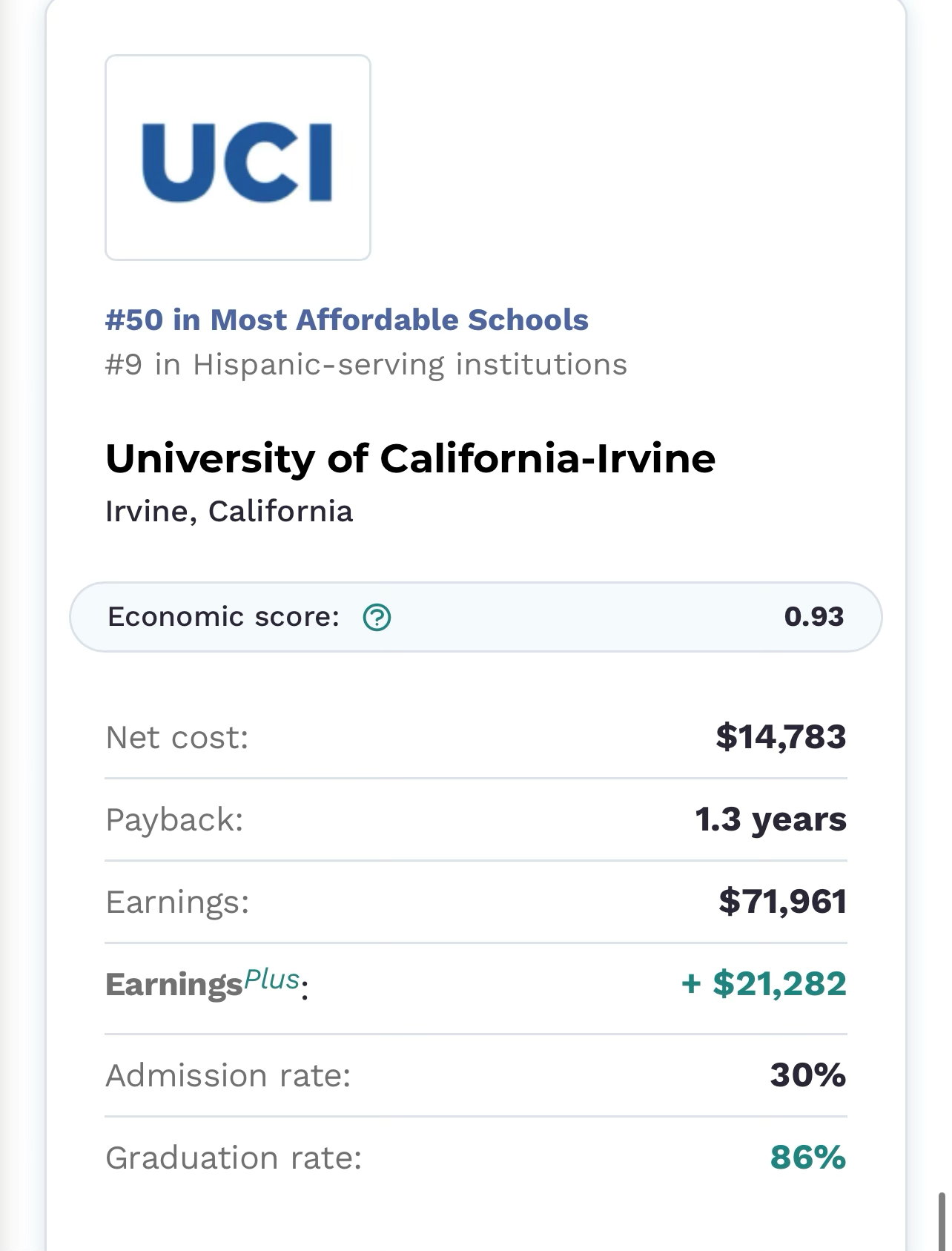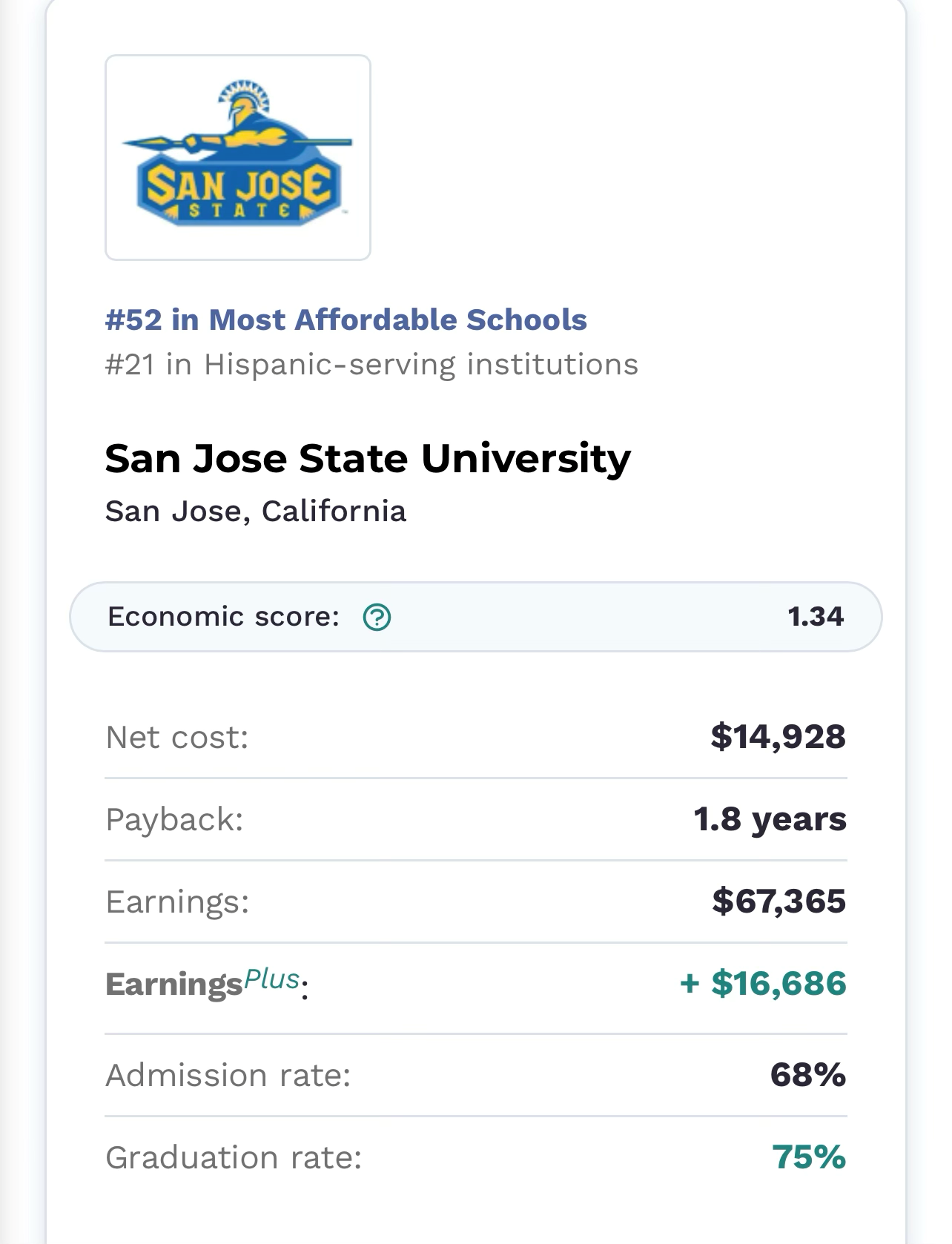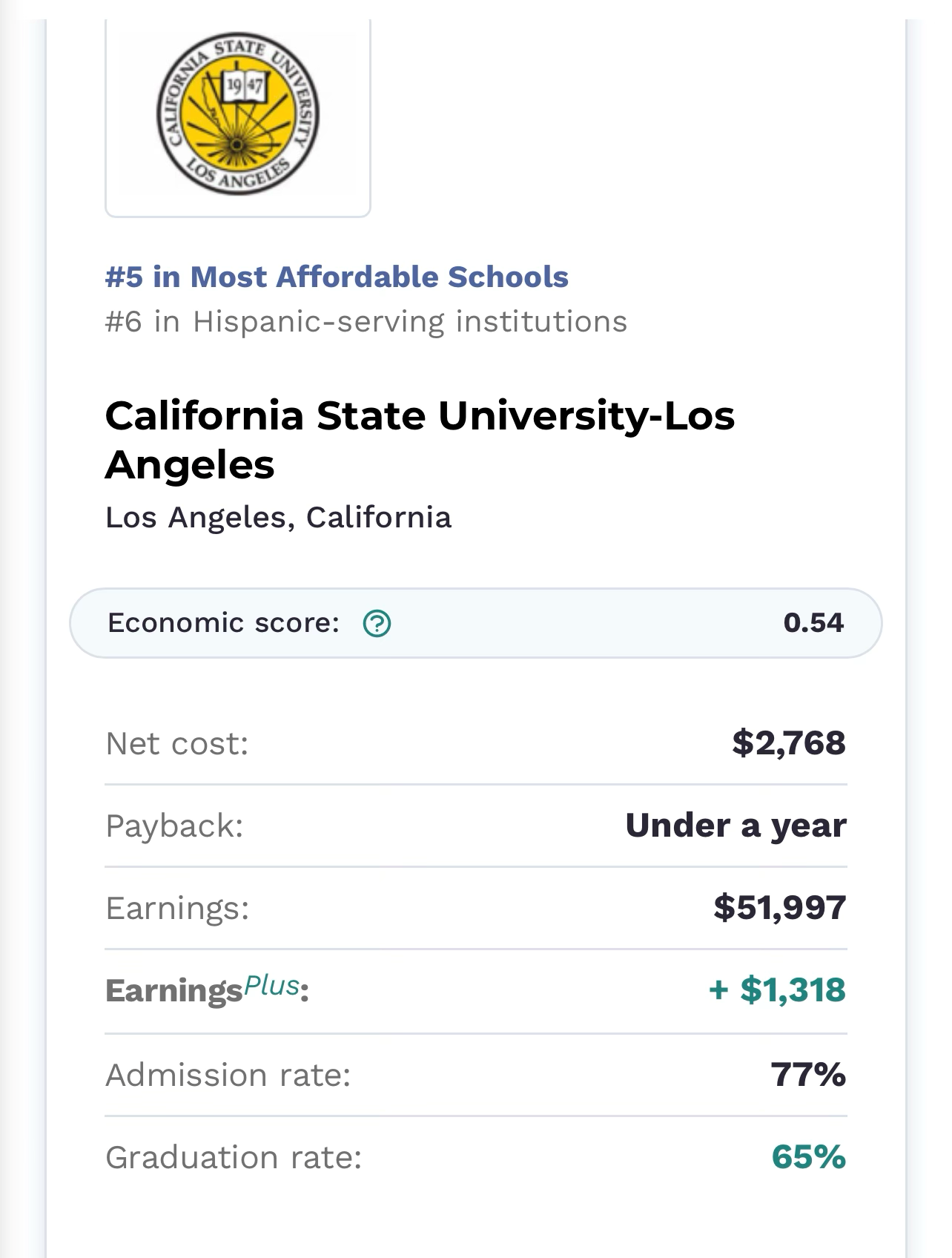 Saving mindset. Saving is a key component that can make college affordable for your family. In California, the ScholarShare 529 savings account is uniquely designed for families saving for their children's future higher education expenses such as tuition, room and board fees, books, and laptops. The program is an excellent way to prepare your student as well as your extended family. When you are thinking about the next quinceañera present or baptismo gift, think of opening a ScholarShare 529 account for children in your family to help ensure they will have the ability to afford higher education.
The issue of college affordability can weigh heavily on families who are continuing to break generational poverty and are working to build a generation of college graduates. What I hope you understand is that el Camino to college for your family will include a mix of programs you may be eligible for, knowledge of colleges that are most affordable, and overall financial literacy.
Financial literacy is the understanding of financial concepts and the ability to make informed decisions on a regular basis. Financial literacy for college students includes knowing how to budget for college expenses, how student loans work, and how to manage long-term college planning. With all of this combined, may you and your family continue the college planning and college-going experience along a beautiful and prosperous path that will become your family's legacy, el Camino. Adelanté!
F-2626850P-Y1222W