What is wealth? Money, luxuries, and goods are just a few forms of wealth but let's discuss another framework to support your student's transition to college, cultural capital.
The Community Cultural Wealth model (Yosso, 2005) recognizes the strengths of underserved populations and encourages them to identify experiences, skills, and knowledge as positive contributions.  Therefore, your student can leverage these assets rather than focusing on deficits.  Six types of capital can be used to empower your student: aspirational, navigational, social, linguistic, familial, and resistant capital.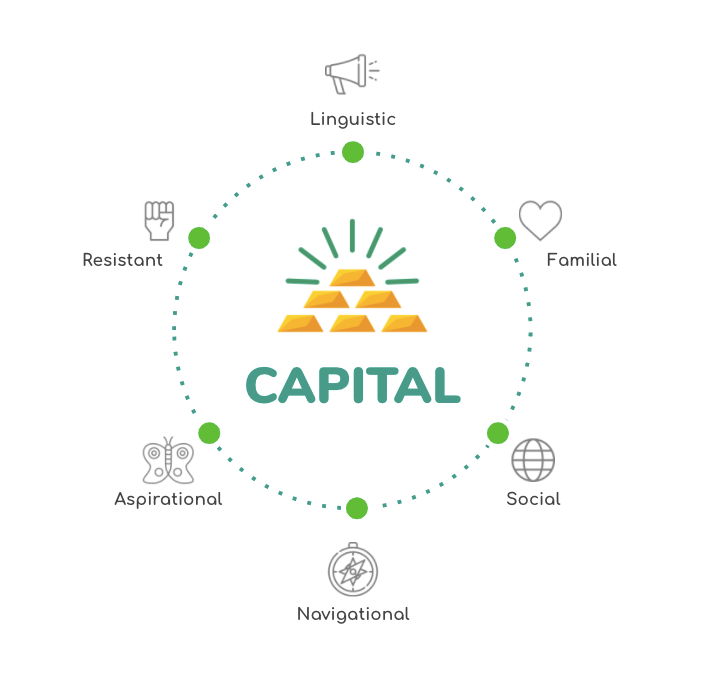 Aspirational Wealth: Hopes and dreams
Students from underserved populations have the ability to maintain hopes and dreams.  Their aspirations were likely shaped by you (parents), siblings, grandparents, and mentors who shared life stories about overcoming adversity and who provided moral support.  As your student prepares to transition to college, identify individuals within the family and community who foster their aspirations and hope for the future.
Linguistic Wealth: Language and communication
Storytelling is a part of students' lives before they arrive at college as they likely garnered skills that include "memorization, attention to detail, dramatic pauses, comedic timing, facial affect, vocal tone, volume, and rhyme" (Yosso, 2005).  Engage in discussions with your student about the ways in which they can apply these skills to their new academic and social settings.
Familial Wealth: Knowledge nurtured among family
Experiencing family history and struggles can develop a form of knowledge that encourages students to overcome challenges, to pursue a professional career, and give back to their family and community.  Talk with your student about the ways in which your family can continue to provide critical support through validation, advice, and role modeling.
Social Wealth: Peers and social contacts
Encourage your student to capitalize on friendships, social networks, and lessons they learned from interacting with peers/mentors.  As your student understands the value of diversity and of learning from different cultures, they will be positioned to feel supported by peers, professors, and advisors in the college setting.
Navigational Wealth: Maneuvering through institutions
Navigating distinct worlds (neighborhoods, peers, native country, family) is a key strategy. Each new context may require its own mental script and language code, as well as its own intellectual and behavioral conventions.  Such skills will help your student navigate new college spaces with greater ease. Remind your student of the ways in which they have already learned to adapt to diverse settings, especially in today's expanding virtual format.
Resistant Wealth: Skills fostered through opposition
Resistant wealth in its different forms supports student persistence by motivating them to continue and to succeed. Students from underserved populations may experience culture shock in college as they encounter worlds with different access to different forms of resources. Remind your student of what they have already overcome when facing academic and social obstacles.
Your Most Valuable Assets
Your student has likely acquired abundant cultural capital wealth through family, education, and other social experiences.  Therefore, your students' most valuable assets are the culmination of support, love, and validation in addition to the monetary wealth you have grown for them.  Combined, these will enable your student to make the transition from high school to college with an abiding sense of self in relationship to you, their family, their culture, and their inherent ability to shape their college experiences in the years ahead.
Yosso, T. J. (2005). Whose culture has capital? A critical race theory discussion of community cultural wealth. Race ethnicity and education, 8(1), 69-91.
2437626