As the family of a recent graduate school grad, we are celebrating both the attainment of an advanced degree and the steps our family took in preparing for the cost of it.
By way of background, when our now recent grad was born, his father and I were still repaying a significant amount of student loan debt that we had accumulated to cover the cost of our own academic degrees. As new parents, this provided us with strong motivation to work toward achieving a more favorable experience for our son when he pursued higher education someday. We were determined to find a way to help him have a less financially stressful experience by avoiding the weight of student loan debt that we had experienced.
I look back with tremendous appreciation for our very wise decision to open a 529 college savings account and on our decision to begin contributing to it on a regular basis directly from our paychecks. I also reflect with appreciation on the many rewards associated with the steps we took to realize the future we envisioned for our child.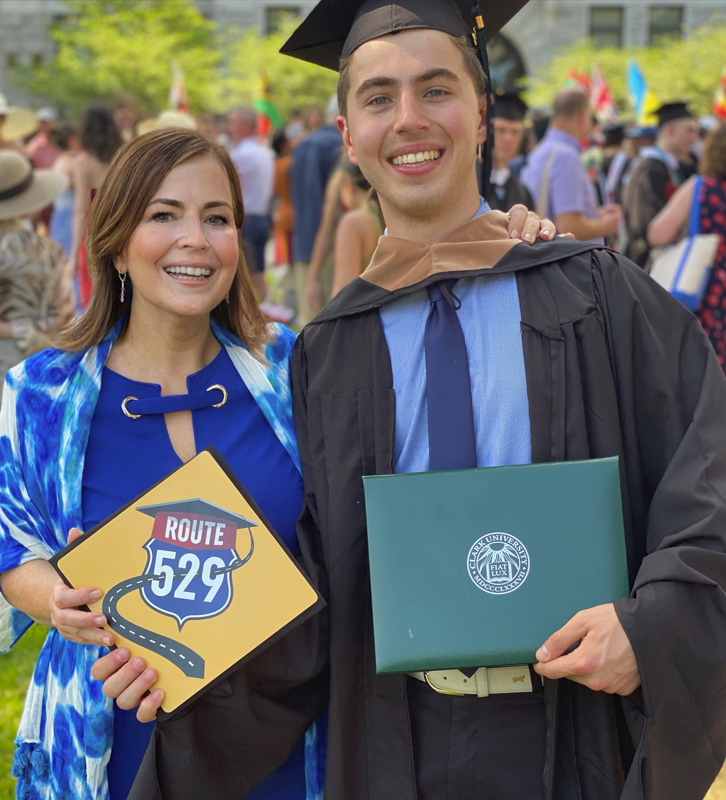 Patricia A. Roberts, J.D. and her son.
The rewards of opening a 529 college savings account go well beyond the debt-free degree that was recently attained. Here are just a few:
Peace of mind
Finding a spare 15 minutes to open a 529 account during those busy days as a first-time mom led to an unexpected and quite immediate reward of peace of mind. Although both money and sleep were quite limited at the time and the future seemed so very far away, I vividly remember resting more peacefully with the knowledge that we had at least gotten started by opening an account and by beginning to make small consistent deposits into it. Taking that first step versus putting it off and worrying about whether we would ever be able to afford a college education for our child was one of the best decisions I made as a new parent.
The peace of mind associated with having a plan was a reward that remained with us when encountered circumstances that caused us to feel a bit off-balance through the years. Whether concern about world events, aging parents, job stability, or other matters outside of our control, knowing we had a plan with designated funds for higher education rewarded us with both a vision of a bright future and a sense of control with respect to it.
Valuable Education
Developing habits to support the outcome we set out to achieve wound up providing the unanticipated reward of valuable financial education for our son. The steps we undertook by investing in a 529 plan enabled us to model healthy financial habits which our son was able to observe and learn from. Discussing our college savings goals in age-appropriate ways through the years helped us to provide him with both the confidence that he would be pursuing higher education someday and the knowledge of what we were doing to prepare for the cost. Sharing with him that his dad and I were both contributing regularly to a special account helped him to learn about the value of breaking a large goal of any type into smaller, more manageable steps that could be consistently taken over time and helped him to learn a bit about investing as well.
Options
An additional reward of having planned ahead for educational expenses with a 529 college savings account was the many options it presented. Knowing he had an account to rely on enabled our son to consider many different forms of education and to select a university, a major, and a geographic location that was a good fit for him. Without financial stress, he was able to pursue both paid and unpaid internships that aligned well with his interests and volunteer opportunities as well. He was also able to study abroad and keep a more dedicated focus on his studies. And as a brand-new graduate, he has entered the adult world with the freedom to pursue roles of greatest interest without needing to narrowly focus on how much he needs to earn to repay student loan debt.
While I hadn't considered these priceless additional rewards when we set out on our savings journey, we are taking the time to acknowledge and celebrate them now.